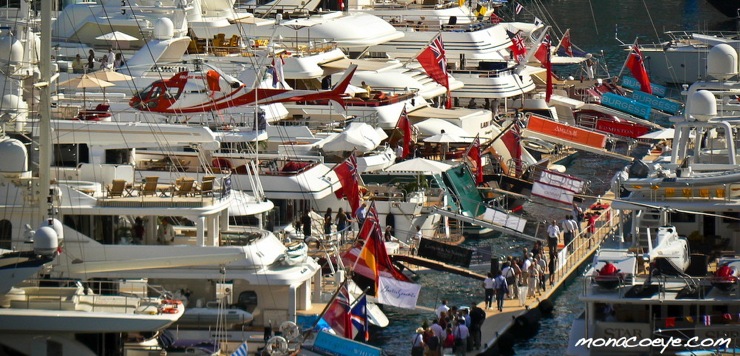 Monaco is the yacht capital of the world. Most years, half of the top 100 largest yachts came to Port Hercule or stop just outside.
The
Monaco Yacht Show
at the end of September is the highlight of the yacht calendar, as deals are signed for multimillion dollar yachts. Every year has seen the Show - and the yachts - get bigger and bigger. Megayachts are currently the size of small cruise ships as owners demand more and more space. Many of the yachts seen are privately owned but chartered out for much of the year.
The longest yacht in the harbour is
Atlantis II
, whose home berth is Port Hercule. She rarely leaves the port and is even visible from space on the Google
map
. She is still one of the largest private yachts in the world, despite her age, and was once owned by Stavros Niarchos, the Greek tycoon.
The yacht that catches most visitors' attention is
Lady Moura
, which can be seen for many months of the year, although her home berth is in Spain. Now nearly fifteen years old she is slowly slipping down the top 100 list, but remains for many the true prototype of the megayacht. She was the first to hide away tenders and external fittings to create a sleek exterior.
The most stylistically stunning yachts may well be
Pelorus
and
Ecstasea
. Look out for them during the Grand Prix and visits by his fotaball teams CSKA Moskow or Chelsea.
Many more have fascinating histories. For example,
Sokar
, owned by Mohammed al-Fayed, was where the courting couple Dodi and Di would meet. Churchill discussed Yalta with Eisenhower on
SS Delphine
.
Pacha III
is Princess Caroline's beautiful antique yacht.
Athena
was the world's largest private sailing yacht in 2005 and owned by Netscape and Silicon Graphics co-founder Jim Clark.
To see hundreds of these famous yachts go to our sister site
Monaco Yachts